VexGames 299 Baseball Tournament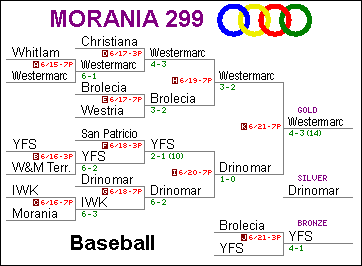 ---
(GAME A) WESTERMARC 6, WHITLAM 1
Zelfir had a key two-run single and Sie and Foo added solo homers as Westermarc topped Whitlam 6-1 in the opening game of the VexGames baseball tournament on Thursday.
Westermarc opened the scoring with a four-run second inning. Soy and Kuungg opened the frame with consecutive doubles and Sie walked. Two batters later, Zelfir singled to left for a 3-0 lead. Joong later drew a bases-loaded walk that scored Chiao, who had reached on an error by Whitlam starter Jones.
Joong was pinch-hitting for Moong, who left with tightness in his left calf. He was taken out for precautionary reasons.
Whitlam climbed within 4-1 in the fourth when Barwick homered. Sie and Foo hit leadoff homers in the fourth and eighth innings, respectively, for Westermarc.
Chiao allowed one run and four hits over six innings, striking out five. Jones surrendered five runs — four earned — and seven hits over three-plus innings.
Westermarc moves on to play Christiana in the quarterfinals.
GAME A
1
2
3
4
5
6
7
8
9
R
H
E
Whitlam
0
0
0
1
0
0
0
0
0
1
6
1
Westermarc
0
4
0
1
0
0
0
1
6
11
2
WP — Chiao. LP — Jones. HR — Barwick (Whi); Sie, Foo (Wmc).
---
(GAME B) YELLOW FREE STATE 6, WATTS & MEALING TERRITORIES 2
Baldwin allowed one hit over five scoreless innings while Grenville and North knocked in two runs apiece as the surprising Yellow Free State posted a 6-2 victory over Watts & Mealing Territories in opening round baseball action at the VexGames.
As the only pitcher on YFS's nine-player roster, Baldwin gave up just a fourth-inning single to Gross en route to victory. He struck out W&M slugger Stoctin, the potential tying run at the plate to end the eighth.
YFS's Canning smacked a solo homer in the ninth.
Rudnick gave up four runs — three earned — and nine hits in 52/3 innings for W&M. He walked three and struck out one.
Willis accounted for the W&M offense with a two-run homer in the bottom of the eighth.
YFS took the lead in the third. Grenville singled with one out and North drove him in with an RBI double. Campbell-Bannerman, who went 3-for-4, gave YFS a two-run cushionin the fourth with a run-scoring single.
YFS tacked on two more runs in the sixth. Addington doubled with one out and Law singled before Campbell-Bannerman was intentionally walked. Rudnick struck out Baldwin for the second out, but Grenville came through with a two-run single that pushed the lead to 4-0.
Law went 3-for-3 with three runs scored and stole a pair of bases.
North bounced into a forceout in the eighth to give YFS a five-run lead before Willis belted a homer in the bottom of the inning off Baldwin.
YFS will now play San Patricio, which drew a bye into the quarterfinals.
GAME B
1
2
3
4
5
6
7
8
9
R
H
E
Yellow Free State
0
0
1
1
0
2
0
1
1
6
14
0
Watts & Mealing Terr.
0
0
0
0
0
0
0
2
0
2
3
1
WP — Baldwin. LP — Rudnick. HR — Canning (YFS); Willis (WMT).
---
(GAME C) INDEPENDENT WESTRIAN KUKURIA 6, MORANIA 3
Starting pitcher Kaltmacher got a little help from reliever Erlick as Independent Westrian Kukuria posted a 6-3 victory over host Morania at the VexGames.
Kaltmacher allowed three runs and seven hits with three walks and two strikeouts in six innings and Erlick slammed the door, allowing only one batter to reach base. The only baserunner he allowed was Davies, who singled to start the ninth but was erased on Cortez's double-play grounder.
Jumentes was the loser. He lasted 41/3 innings and was tagged for five runs and nine hits with three walks. IWK took the lead for good with two runs in the third.Demmering led off with a single and Jahobis doubled. Demmering scored on a groundout by Gurkenschathz and Kitcher followed with an RBI single.
Gray halved the lead with a homer for Morania on a 2-0 pitch from Kaltmacher in the fifth, but IWK answered with three runs in the bottom of the inning.
Gurkenschathz singled with one out and Gray bobbled Kitcher's ensuing single to left, leaving both runners in scoring position. Issinger was intentionally walked, but Kalalat foiled the strategy with a two-run single. Ockenburgher narrowly missed a home run when his shot to left-center hit thetop of the wall and scored Issinger.
Edwards relieved Jumentes and escaped further damage when Buurthz struck out and Kaltmacher grounded out.
McCloud walked to start the Morania sixth and Fernandez doubled. Davies lifted a sacrifice fly for one run and Sanchez-Vittoria plated another with a groundout to make it 5-3.
Demmering started the sixth with a double against Cortez, stole third and scored the final run on a sacrifice fly by Japhobis.
As the opening round ends, IWK advances to play Drinomar.
GAME C
1
2
3
4
5
6
7
8
9
R
H
E
Morania
0
0
0
0
1
2
0
0
0
3
8
1
I W K
0
0
2
0
3
1
0
0
6
12
1
WP — Kaltmacher. LP — Jumentes. HR — Gray (Mor).
---
(GAME D) WESTERMARC 4, CHRISTIANA 3
Utzenbergh delivered a run-scoring single with two outs in the top of the ninth inning as Westermarc advanced to the semifinals of the VexGames baseball tournament with a 4-3 victory over Christiana.
Utzenbergh lined the first pitch off Martin into center field, scoring Foo and capping a comeback that saw Westermarc erase a 3-0 deficit. Foo led off the inning with an infield single and stole second one out later.
That set the stage for Utzenbergh, who took over for Sie at first base in the bottom of the seventh.
Osimm got the win, allowing three runs and five hits over eight innings with three walks and eight strikeouts. Fangg tossed a scoreless ninth for the save.
Christiana got the tying run in scoring position in the ninth as Reeves singled with one out and pinch-runner Steele stole second after Flont struck out. But Fangg got Burris to ground out sharply to second to preserve the victory.
Christiana reached Osimm for three runs in the bottom of the fourth to open a 3-0 lead. Drysdale got the team on the board with a solo homer before Wanter added an RBI double and Mondren delivered a sacrifice fly.
Held to one hit over the first four innings, Westermarc came right back to tie it in the fifth. Kuungg reached on an infield single and came home on Foo's two-run homer off starter Fitzgerald.
After Sie doubled, Osimm grounded out and Zelfir popped out, but Sie scored the tying run when second baseman Yatzerman bobbled Schollig's grounder for an error.
Christiana threatened in the eighth, but Osimm got Wanter toground to second for the final out of the inning with runners on second and third.
The win moves Westermarc into the semifinals against the winner of this evening's Westria/Brolecia contest.
GAME D
1
2
3
4
5
6
7
8
9
R
H
E
Westermarc
0
0
0
0
3
0
0
0
1
4
7
1
Christiana
0
0
0
3
0
0
0
0
0
3
6
1
WP — Osimm. LP — Martin. HR — Foo (Wmc); Drysdale (Chr).
---
(GAME E) BROLECIA 3, WESTRIA 2
Mullet was dominant after allowingtwo first-inning runs and Jinha's second homer of the day in the seventh was the difference as Brolecia edged Westria, 3-2, in a VexGames quarterfinal match.
Jewitt also homered for Brolecia, which now moves into a semifinal contest against Westermarc.
Mullet lasted eight innings, striking out five with two walks. He retired 17 straight batters from the second through eighth innings before yielding to Pàilÿ in the ninth.
Pàilÿ issued a one-out walk to Polenta but retired Delinguez and Ulff on flyouts to earn the save.
Westria had two runners tagged out at home plate in the game.
Jinha belted his first homer in the second to bring Brolecia within 2-1 and Jewitt tied it in the fourth with his round-tripper.
Neither team was able to manage much offense thereafter, until Jinha began the seventh by driving a 2-2 pitch from Enemende over the left-field fence for the game's decisive run.
Enemende allowed five hits over seven innings, striking out two and walking two.
Hoos began the game with a single and scored when left fielder Immi threw wildly to the infield on Fullmer's double. Polenta's groundout gave Westria a 2-0 lead.
But that was all Westria would get, as they twice rant hemselves out of runs. Delinguez, who singled later in the first inning, was thrown out at home when he tried to score on Muurks' infield single.
Pinch hitter Hegelery drew a one-out walk in the eighth and was sacrificed to second by Hoos. He then tried to score on McGwire's passed ball, but was tagged out at home by Mullet.
GAME E
1
2
3
4
5
6
7
8
9
R
H
E
Westria
2
0
0
0
0
0
0
0
0
2
5
1
Brolecia
0
1
0
1
0
0
1
0
3
6
1
WP — Mullet. LP — Enemande. HR — Jinha 2, Jewitt (Bro).
---
(GAME F) YELLOW FREE STATE 2, SAN PATRICIO 1 [10 INNINGS]
Pitcher Baldwin drove in the go-ahead run with a sacrifice fly in the top of the 10th inning as Yellow Free State edged San Patricio, 2-1, after a great pitcher's duel at the VexGames.
SP reliever Jiminez began the 10th by striking out Peel before being replaced by Domiguez, who proceeded to walk Addington. Shortstop O'Donnell booted Law's grounder to put runners at first and second before Domiguez uncorked a wild pitch, moving both runners up a base.
Domiguez (2-2) issued an intentional walk to Campbell-Bannerman before Baldwin lofted a fly ball to medium left field. McGurk made the catch and fired a perfect one-hopper to the plate, but Addington slid under Luther's tag to put YFS up 2-1.
Baldwin, YFS's only pitcher, picked up his second win of the tournament.
Baldwin and and SP lefthander Vasquez went pitch-for-pitch for eight innings.
After six scoreless frames, YFS broke through against Vasquez as Addington smacked a two-out RBI single to left,driving in Canning, who had reached on second baseman Santamaria's fielding error.
San Patricio answered in the eighth when McGurk drilled a run-scoring triple to right off Baldwin to knot the score at1-1.
Baldwin went the distance, of course, eight innings, allowing a run and seven hits, striking out nine and walking three.
Vasquez yielded one unearned run and four hits over eight innings, striking out five and walking one.
O'Toole, batting for Vasquez, led off the eighth for San Patricio with a single.Santamaria sacrificed before Marinero hit a comebacker to Baldwin, who turned and pegged O'Toole at third. But McGurk followed with a three-bagger to right, knotting thescore at 1-1.
With no substitutes, YFS will have to go with the same lineup when it faces the winner of the Drinomar/IWK game in the semifinals.
GAME F
1
2
3
4
5
6
7
8
9
l0
R
H
E
Yellow Free State
0
0
0
0
0
0
1
0
0
1
2
5
3
San Patricio
0
0
0
0
0
0
0
1
0
0
1
7
2
WP — Baldwin. LP — O'Donnell. HR — none.
---
(GAME G) DRINOMAR 6, INDEPENDENT WESTRIAN KUKURIA 2
Harera and Maxaz smacked back-to-back home runs during a four-run fifth inning as Drinomar rallied for a 6-2 triumph over IWK.
Harera crushed a two-out, three-run shot off starter Schmothz over the center-field wall to give Drinomar a 3-2 lead.
Three pitches later, Maxaz hit his 10th homer to left-center field for a two-run advantage.
Drinomar made it 6-2 in the eighth, thanks to a two-run error by reliever Ullunig. With one out and runners at second and third, Fandano hit a comebacker that Ullunig threw between the legs of catcher Buurthz, allowing Maxaz and Perez to score.
Starter Oreo put two runners on to start the ninth but Mendeso got Kalalat to ground into a double play and Olkenburgher to fly out to end the game for the save.
Oreo picked up the win, surrendering two runs and five hits over eight-plus innings. Schmothz was the loser, allowing four runs and five hits over seven innings.
Gurkenschathz homered and Olkenburgher stroked an RBI single in the fourth to put IWK ahead 2-0.
Drinomar will tangle with Yellow Free State in the semifinals.
GAME G
1
2
3
4
5
6
7
8
9
R
H
E
Drinomar
0
0
0
0
4
0
0
2
0
6
7
0
I W K
0
0
0
2
0
0
0
0
0
2
5
2
WP — Oreo. LP — Schmothz. HR — Harera, Maxaz (Dri); Lingis (IWK).
---
(GAME H) WESTERMARC 3 BROLECIA 2
Chiao allowed two runs over 72/3 innings and Westermarc took advantage of three miscues in the sixth inning to record a 3-2 victory over Brolecia in the VexGames baseball semifinals.
Chiao allowed four hits and fourwalks and struck out four before giving way to Fangg for the final out in the eighth.
Lee survived a leadoff single in the ninth before getting the save.
Chiao also started the game-winning rally with a leadoff triple. Brolecia right fielder Jewitt dove for the ball but failed to make the catch as the ball bounced tothe wall. Zelfir followed with a bloop single to plate Chiao and took second on the throw home.
Zelfir was erased when he tried to take third on a grounder by Schollig, who stole second before Moong walked. Third baseman Jinha bobbled a ball hit by Waang, loading the bases. Soy flied out before Kuungg hit a ground ball that Brolecia shortstop Kahn allowed to go through his legs, plating Schollig and Moong with the tying and go-ahead runs.
Jewitt accounted for Brolecia's offense with a two-run homer in the second inning. Blake pitched well in the loss, giving up three runs — one earned — and four hits over six innings.
Ìqaïn singled off Chiao to start the second before Jewitt hit the first pitch he saw over the right-field fence. Chiao did not allow a hit until Kahn had a leadoff single in the fifth. Brolecia had runners on second and third with two out in the sixth, but Chiao struck out Kahn to end the inning.
It's a trip to the finals for Westermarc as they await the winner of the Drinomar/YFS contest. Brolecia heads to the bronze medal game.
GAME H
1
2
3
4
5
6
7
8
9
R
H
E
Brolecia
0
2
0
0
0
0
0
0
0
2
5
2
Westermarc
0
0
0
0
0
3
0
0
3
5
0
WP — Chiao. LP — Blake. HR — Jewitt (Bro).
---
(GAME I) DRINOMAR 1, YELLOW FREE STATE 0
Drinomar pitcher Lars became a charter member of the VexGames hall of fame with a surprising no-hitter in the baseball semifinals.
Lars made history by shutting down Yellow Free State and outdueling seemingly exhausted pitcher Baldwin, 1-0.
Lars, who walked two and hit a batter while striking out eight, turned in the most outstanding performance of the entire tournament so far.
Lars got Grenville to ground out to second baseman North for the final out in the ninth. Moments earlier, Harera preserved the no-hitter by making a diving catch on Baldwin's sinking line drive to right field for the second out of the inning.
The ball came loose after Harera stood up, but the umpires ruled that Harera had control of the ball long enough for the out to count.
Harera also robbed Campbell-Bannerman of a hit with a diving catch for the first out in the sixth. Campbell-Bannerman struck out to open the ninth on a low pitch that was generously called a strike by the umpire.
Lars matched zeroes with Baldwin until Drinomar broke through for the game's only run in the top of the ninth on Trori's broken-bat RBI single.
Harera and Maxaz walked with one out in the ninth, and after Perez struck out, Harera came home on Trori's bloop single to left. Maxaz was thrown out by left fielder Grenville trying to advance to third.
Lars threw 101 pitches and allowed only three baserunners, none past second base. He walked Peel in the second inning, hit Campbell-Bannerman in the third and walked Sherburne in the seventh. Peel and Sherburne were erased on double plays.
The righthander had 12 ground ball outs and seven flyouts. The game was briefly interrupted in the eighth inning when a fan ran on to the field, but it did not break Lars' concentration.
Surprisingly, in his third outing of the tournament, Baldwin was nearly as dominant as Lars, allowing five hits with two walks and 14 strikeouts. He retired the first nine batters before Dezia led off the top of the fourth with a double.
Drinomar hopes to ride the emotion of Lars' no-hitter into the championship game against Westermarc. For Yellow Free State, it's a shot at the bronze medal against Brolecia.
GAME I
1
2
3
4
5
6
7
8
9
R
H
E
Drinomar
0
0
0
0
0
0
0
0
1
1
5
0
Yellow Free State
0
0
0
0
0
0
0
0
0
0
0
0
WP — Lars. LP — Baldwin. HR — none.
---
(GAME J) YELLOW FREE STATE 4, BROLECIA 1
Pitching his fourth game in six days, Baldwin continued to surprise everyone at the VexGames baseball tournament.
Baldwin pitched a seven-hitter and captured the broze medal for Yellow Free State with a 4-1 win over Brolecia.
Baldwin allowed just one extra-base hit, a double to Kahn in the fifth, and walked none.
Law was the offensive star for YFS. He went 4-for-4 with three singles and a double, plus an RBI on a sacrifice fly.
Peel had a two-out, two-run double in the first inning and Grenville had an RBI single in the fourth for YFS.
Brolecia's Mullet lasted 31/3 innings and surrendered three runs and seven hits.
YFS jumped on Mullet for two runs in the first inning. After retiring Grenville on a flyout, Mullet walked North and Sherburne. After Canning flied out to shallow right, Peel lined a 1-1 pitch to the gap in right-center to score North and Sherburne.
Brolecia scored its lone run in the first. Kennedy reached on an infield single and Gordon followed with asingle to right. Kennedy moved to third on a long fly to rightcenter by McGwire and scored on Ìqaï's fielder's choice grounder.
Law led off the fourth with a double and Campbell-Bannerman followed with a single. After Baldwin sacrificed Campbell-Bannerman to second, Grenville reached on an infield single to score Law, giving YFS a 3-1 lead.
Pàilÿ relieved Mullet and struck out North. After walking Sherburne to load the bases, Pàilÿ retired Canning on a groundout.
Brolecia threatened in the fifth and sixth inning. Kahn doubled with one out in the fifth, but was doubled off the base when Immi lined out to center fielder Addington.
In the sixth, Mérite and Gordon singled in between a flyout by Kennedy. But McGwire grounded into a double play to end the inning.
Baldwin then retired the side in order over the final three innings.
YFS scored their last run in the ninth off reliever Rhöd. Canning led off the inning with a double to left, moved to third on a grounder by Peel andscored on Law's sacrifice fly.
GAME J
1
2
3
4
5
6
7
8
9
R
H
E
Yellow Free State
2
0
0
1
0
0
0
0
1
4
12
0
Brolecia
1
0
0
0
0
0
0
0
0
1
7
0
WP — Baldwin. LP — Mullet. HR — none.
---
(GAME K) WESTERMARC 4, DRINOMAR 3 [14 INNINGS]
Moong delivered a game-winning single with two outs in the bottom of the 14th inning as Westermarc rallied for a 4-3 victory over Drinomar to capture the gold medal in the VexGames baseball tournament.
Moong ripped an 0-1 pitch from Loris (0-1) off the glove of second baseman Dezia, who was playing in the shortstop hole, to score Zelfir with the winning run and give Westermarc the championship.
Zelfir started the two-out rally with a single to right field, and advanced to second on Utzenbergh's single up the middle.
Zelfir said he was almost hit by Moong's line drive as it whistled into left field.
Moong had a chance to win it in the 12th, but was intentionally walked with a runner on second and two outs. Waang popped out to end the inning.
Drinomar left the bases loaded three times, including in the ninth and 10th innings, and stranded 17 runners overall and 10 in the final five frames.
Lee earned the victory with one scoreless inning of work.
Gomez's solo homer in the third and Perez's two-run shot in the fourth gave Drinomar a 3-0 lead.
Westermarc began chipping away, pulling within 3-1 in the bottom of the inning as Schollig singled with one out, stole second and scored on Waang's two-out single.
Oreo held Westermarc to just four hits over the first six innings, but Westermarc tied it with single runs in the seventh and eighth.
Waang walked with one out in the seventh, advanced to third on Soy's single and scored on Kuungg's groundout. Sie opened the eighth with a double and came home with the tying run on Oreo's wild pitch.
Drinomar loaded the bases with two outs in the ninth on Maxaz's walk, but Fangg got Perez to ground out toshortstop.
Fangg intentionally walked Coen in the 10th, then walked pinch hitter Andre unintentionally with two outs to once again load the bases. Fangg bore down to strike out Dezia and get Westermarc out of yet another jam.
Sie had two chances to win it for Westermarc, but he grounded into an inning-ending double play in the ninth, then grounded out with two on and two out in the 11th.
With a runner on third and two outs in the bottom of the 10th, Drinomar elected to pitch to Moong, who grounded out to third.
Even though the game lasted four hours and 43 minutes, almost all of the capacity crowd of 57,289 stayed to the end of what was an unimaginable finish to the inaugural VexGames baseball competition.
GAME K
1
2
3
4
5
6
7
8
9
l0
ll
l2
l3
l4
R
H
E
Drinomar
0
0
1
2
0
0
0
0
0
0
0
0
0
0
3
11
0
Westermarc
0
0
0
1
0
0
1
1
0
0
0
0
0
1
4
13
1
WP — Lee. LP — Loris. HR — Gomez, Perez (Dri).
---